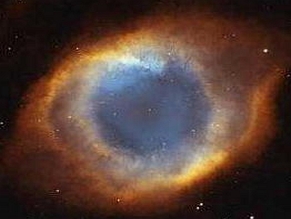 We can predict when powerful thunderstorms occur on earth. Condition Blues - Major Scientific Discoveries and Breakthroughs and Major Weather and Storms. Most scientific breakthroughs occur as new ideas and insights personal to the individual, so is is almost impossible to locate these exact dates of "enlightenment" of a new way to solve a problem. However another very interesting effect from condition blues is weather will grow more unpredictable. This always brings back the memory of the scientist making Frankenstein come to life during a huge thunderstorm. As far as the supercell thunderstorms there will always be an increase in the S Class Flare type on the day it happens. Because we are dealing with solar energies, there is sometimes a "time distortion". Sometimes the increase may occur 24 hrs later or after, but always within this time frame.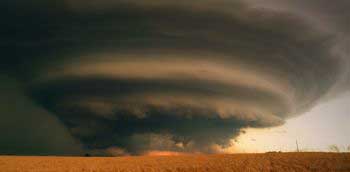 A supercell is a thunderstorm that is characterized by the presence of a mesocyclone: a deep, persistently rotating updraft. For this reason, these storms are sometimes referred to as rotating thunderstorms. Of the four classifications of thunderstorms supercell, squall line, multi-cell, and single-cell), supercells are the overall least common and have the potential to be the most severe. Supercells are often isolated from other thunderstorms, and can dominate the local climate up to 32 kilometers (20 mi) away. Supercell thunderstorms can sweep through any time between March and November, but are concentrated in the spring.
Reference: Wikipedia Supercells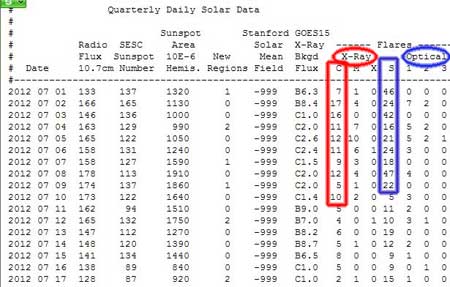 As we can see from the image on the left, the blue circles represent the Optical S Class Flares and the Red the X-Ray C Class Flares, sunspot number is on the far left column.

You can get real time data on this page courtesy of NOAA.



So here are the most recent monster storms, matching the condition blue parameters:

July 31st 2012 - Tornado and Supercell near Gibson City, IL 7/31/12
27 S Class X-Ray Flares
Reference Source: Eyewitness via YouTube Video

June 28th 2012 - Three supercells affected the Midlands of England.
18 S Class Flares, Increasing X-Ray Background Flux.
Reference Source: Wikipedia Supercells

June 17, 2012 - Superstorm over Rural Area -
Reference Extreme Instability. (includes excellent SuperCell Photos)
12 S Class Flares with a total of 23 over a 3 day period.

May 30th, 2012 - Multiple Supercell Thunderstorms-
Total of 15 C Class X-Ray Flares over the 3 day period, along with increased levels of the X-Ray Background Flux peaking at 5.8. Sunspot Numbers were also increasing. 9 S Class Flares within a few hours of the 30th totaling 18 within 48 hours. Supercells formed across the SE Texas Panhandle, Rolling Plains and eastern Concho Valley during the late afternoon hours of May 30th, 2012. Several tornadoes were reported with very large hail...and some of the best storm structure in years in West Texas. Video
Reference Source: Meso Net.

May 4, 2012 - Superstorm over Rural Farmland. Includes excellent pictures.
Reference: Extreme Instability
11 S Class Flares just 24 hrs before with a total of 27 S Class
Flares. Increasing X-Ray Background Flux.

March 9th, 2012 - Huge Hailstone Sets Hawaii Record
Reference: Thinkprogress.org
61 S Class Flares over a 6 day period leading up to March 9th, 2012 with the X-Ray Background Flux peaking on the 9th.

October 2, 2011 - Devastating tornadoes tore through two separate parts of South Africa on the same day, hours apart from each other.
13 C Class X-Ray Flares over the previous 3 days, Sunspots Peaked and
X-Ray Background Flux Peaked at 5.6. 11 S Class Flares.
Reference Source: Wikipedia Supercells

August 18, 2011, Pukkelpop Hasselt (Belgium)
7 S Class Flares
Ref: Wikipedia Supercells


Norman, OK June 14, 2011 - A strong, high-based supercell blasted through Norman, OK during the late afternoon on June 14, 2011, dropping tennis ball size hail and producing 75+ mph straight line winds. Significant tree damage was
reported over much of town, with even minor structural damage where the strongest winds were observed
7 S Class Flares on the 15th
Reference: Tornadoes Webonline


THE MOST POWERFUL RECENT TO DATE WAS 43 S CLASS FLARES ON JULY 1ST, AND 47 C CLASS FLARES ON JULY 8TH, 2012. IF YOU INPUT SUPERCELL JULY 1ST, 2012, SUPERCELL JULY 8th, 2012 INTO GOOGLE YOU INSTANTLY RECEIVE MULTIPLE VIDEOS INCLUDING SUPERCELL HAILSTORMS AND THE LIKE.
Thank You for reading this article. If this or any other article has helped you or someone you know, please consider contributing to this site. Your contribution will ensure the continued publishing of unique and quality articles at no cost to all of our visitors and regular readers.